Posit Package Manager Documentation Consolidation#
In an ongoing effort to improve the user experience with our documentation, beginning in version 2023.04.0-6 , Posit Package Manager has consolidated several individual product guides into a single site!
Previously, each one of Package Manager's product guides was hosted on an individual site.
Now, the following Package Manager documentation is consolidated into a single site: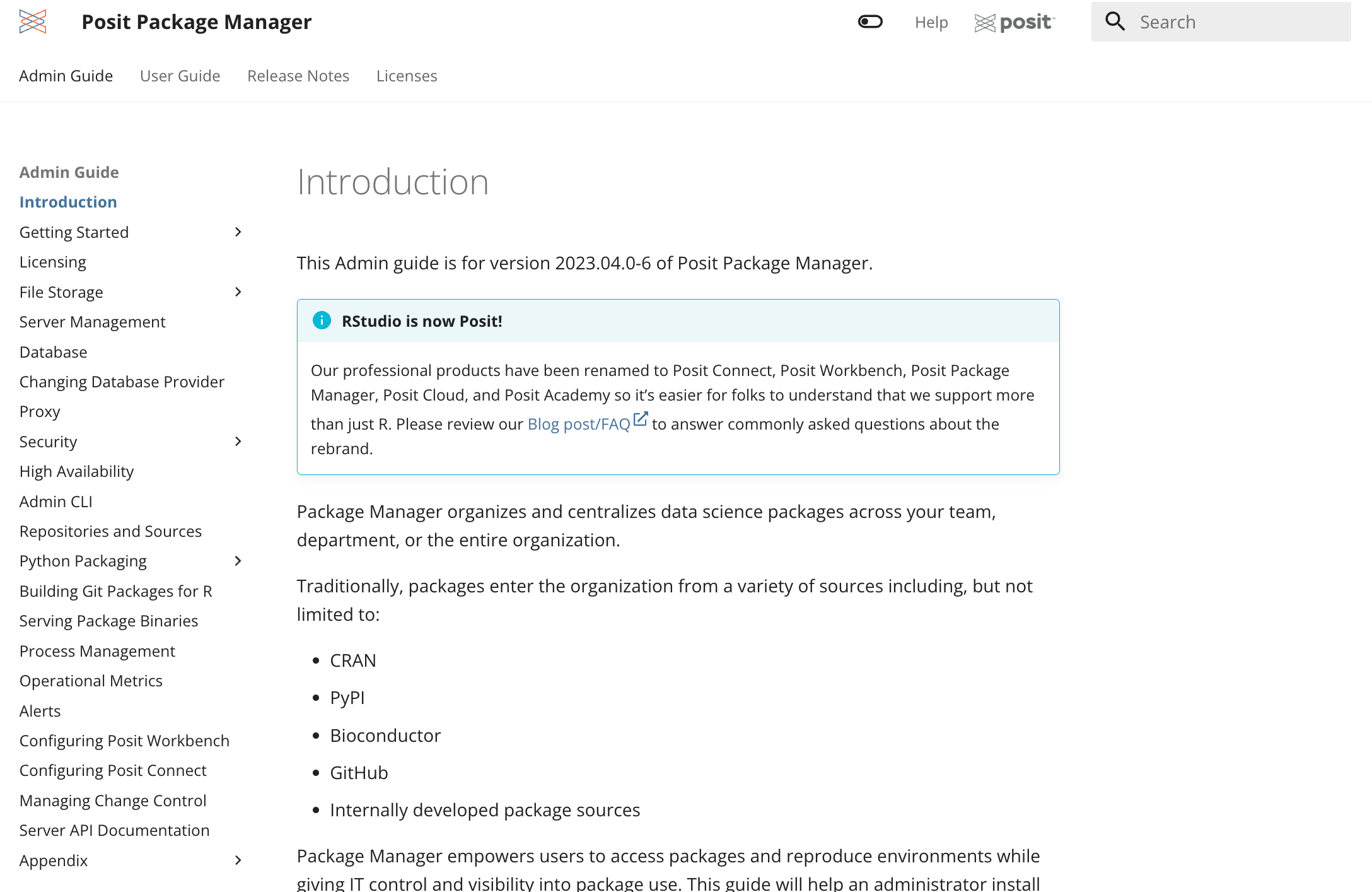 Admin Guide
User Guide
Release Notes
Licenses
What does this mean?#
This dramatically improves our users' ability to search and discover content. Before the consolidation, if you searched a term within the Release Notes site, you would only get results for that individual site. Now, running a search will crawl all of the content that we consolidated.
Since this is an ongoing effort, we have not consolidated all of our documentation content. Installation, upgrade, configuration, and integration content still lives at docs.posit.co and searching from the Admin Guide will not crawl content hosted at docs.posit.co.
Bookmarked links should continue to function.
Notable#
In case you didn't know until now, https://docs.posit.co is internally known as "docs proper." This site acts as a gateway for new and returning users to get started with our professional products. This site mainly features install, upgrade, initial configuration and integration documentation, and links to all of our professional product guides.
Running a search from this site will not return search results from any of the admin, user, server API, release notes, etc., guides. Likewise, searching from the admin guides will not return search results from this site.
You start your journey here, on "docs proper", and then migrate to the product admin guides.
Return to https://docs.posit.co when you need installation procedures, to upgrade your product, or to review our complete list of professional product resources and view previous versions of our documentation.
"Docs proper" also features how-to guides, pro drivers documentation, troubleshooting content, additional resources, like Install Python, and hosts documentation for other Posit products.
We understand this is a big change, and we hope it improves your documentation experience. In the future, we plan to continue the consolidation effort for our other professional products.